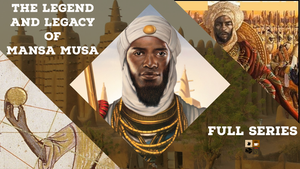 The Richest Man in history is still Mansa Musa, estimated to be worth over $400 Billion. This course will review the Legend of Mansa Musa, how he inherited his wealth, grow his wealth, and the lessons we can learn from his journey.
Ages - 12+
Course Outcomes
Understand the massive wealth of Mansa Musa

Analyze how Mansa Musa expanded his empire

Apply wealth concepts to personal life
This course is powered by iMi. After your purchase, you will receive an email with login information to complete this course.
Want to get more value? Become a member and get access to this course plus new courses every semester for only $29.99 a month. Learn more below.
https://www.imifoundation.com/bundles/imi-all-access-membership