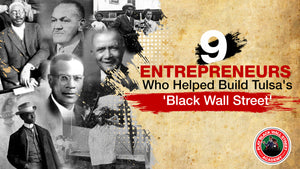 Entrepreneurs Building Black Wall Street takes a look at some of the Entrepreneurs that helped to build Tulsa's Black Wall Street. The course will go through the stories of businessmen and women and provide models of success. This course is a great introduction to Black Wall Street and business terms.
Ages - 12+
Course Outcomes
Review Prominent Black Leaders and Business Folks
Analyze How each entrepreneur was able to be successful
Understand basic financial and business concepts
Think Critically about lessons you can apply from the stories of these historical figures
Course Includes
Study Guide
Course Slides and Presentation
Course Quiz
55 Minutes of Course Content
This course is powered by iMi. After your purchase, you will receive an email with login information to complete this course.
Want to get more value? Become a member and get access to this course plus new courses every semester for only $29.99 a month. Learn more below.
https://www.imifoundation.com/bundles/imi-all-access-membership