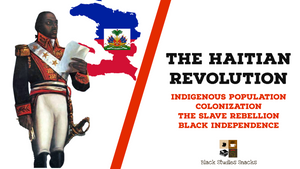 The Haitian Revolution was a complex series of revolts and wars resulting in the First Black Republic in the world. Haiti is a symbol of Black Power and Independence. Join this course to learn about the indigenous population, colonization, and how Haiti fought for its freedom. The course includes on-demand videos, presentation slides, and scholar questions.
 Course Outline
The Indigenous Population
Colonization in Haiti
The Slave Rebellion
Black Independence
Impact on America
Ages - 12+
Course Outcomes
Understand the complexity of the Haitian Revolution

Analyze the political motivations involved

Make Connects between the Haitian Revolution and American History

Apply concepts for society today
This course is powered by iMi. After your purchase, you will receive an email with login information to complete this course.
Want to get more value? Become a member and get access to this course plus new courses every semester for only $29.99 a month. Learn more below.
https://www.imifoundation.com/bundles/imi-all-access-membership