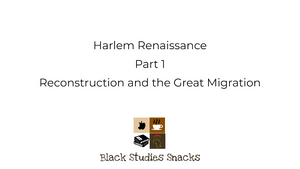 The Harlem Renaissance was a defining period of Black Culture and the Black Identity in American. In this course, we will review what led up to the Harlem Renaissance and the lasting impression it has had on our Nation. 
Ages - 12+
Course Outcomes
Understand the Importance of the New Negro Movement

Analyze arguments for why the Harlem Renaissance Ended

Review prominent Black Artists of the 1920's

Apply concepts to self-identity development
This course is powered by iMi. After your purchase, you will receive an email with login information to complete this course.
Want to get more value? Become a member and get access to this course plus new courses every semester for only $29.99 a month. Learn more below.
https://www.imifoundation.com/bundles/imi-all-access-membership