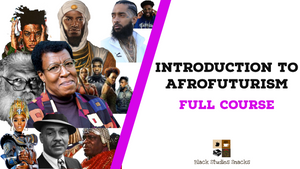 Introduction of Afrofuturism will introduce you to the empowering genre, provide examples of Afrofuturist Creators, the 7 Elements of Afrofuturism, and how you can apply the genre in your life. Enroll in this Black Studies course today.
Course Outcomes
Review Prominent Afrofuturist Artists, Authors, and Contributors 

Analyze the 7 Elements of Afrofuturism 

Understand the Concepts and Power of Afrofuturism  

Apply Afrofuturism Concepts to life and perception
Afrofuturism is a cultural aesthetic, scientific philosophy, and historical philosophy that investigates the ongoing interaction between African diaspora culture and technology while taking a critical look at society. 
Become a member and Get Access to Black Studies Courses Online for only $1! https://www.imifoundation.com/bundles/imi-all-access-membership