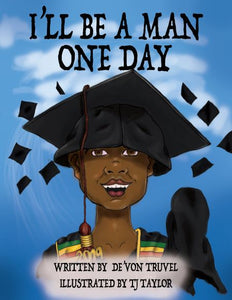 A Message and Story for Young Men
"I'll Be a Man One Day" is a cute book dedicated to molding positive men of the future! Follow Rodney throughout his day as he lives life and makes decisions that will prepare him for adult life. From his morning routine to how he plays with his friends, it is all preparing him for the future.
Lessons From the Book
The importance of school
Small habits and responsibilities
Long Term Vision
IMportance of learning from Parents
This book is written by De'Von Truvel, creator of Black Wall Street the Board Game. De'Von is a passionate and creative educator with a focus on financial literacy, self-development, and personal vision.
"I'll Be a Man One Day" is perfect for parents or guardians with young boys. This book can help your young boys visualize their daily routine and what they want for their future.