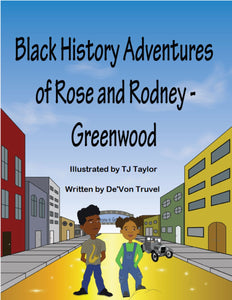 A Black History Adventure for your kids to enjoy!

Rose and her little brother Rodney are given a magical treasure chest that allows them to travel through time. On their adventure, they meet new a friend Mabel B Little, live a day in Tulsa's Black Wall Street, and discover gifts of their own. This is a playful adventure with endless possibilities.
Age Range
4 - 7-year-old Scholars

What Your Scholar Will Learn
Black History Figures
Introduction to Tulsa's Black Wall Street
The Power of Discovering Your Unique Gift
The importance of Ownerships and Generation Wealth
Legacy
This story is written by De'Von Truvel, the creator of Black Wall Street the Board Game. In the book and in the game you learn about some of the real businesses from Tulsa's Black Wall Street. The purpose of the book and the game is to introduce more youth to the concept and importance of ownership. This is a perfect bedtime or storytime book to expand the imagination of your loved ones.
Book Options
Ebook - Perfect for on the go or kindle consumption
Signed Physical Print - Quality full color printed gloss paper. To further support the vision of Play Black Wall Street purchase your signed copy by De'Von Truvel. (Comes with Ebook and Physical Print)

Follow the Black History Adventures of Rose and Rodney as they travel through time learning their history and discovering their future. This will be a book series so stay tuned for more!
New Animated Film Coming Soon!
Watch Coming Soon Video on Youtube